PROMOTION 03 - EXOTIC PHNOM PENH TO MIRACLE ANGKOR COMPLEX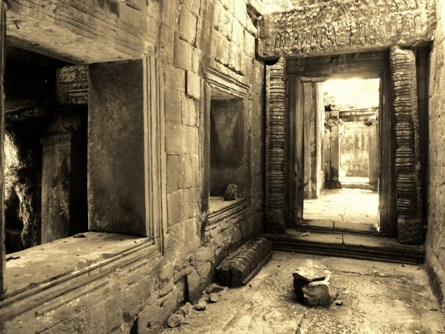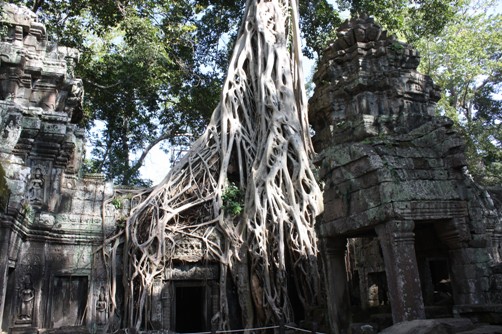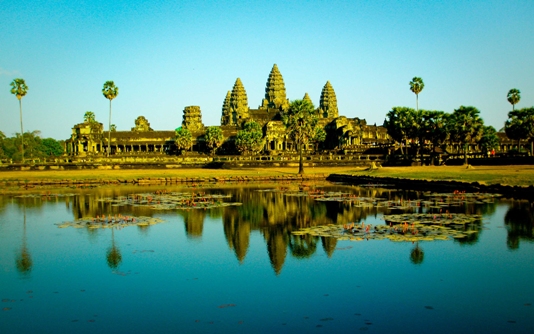 PROMOTION PACKAGE 03 - EXOTIC PHNOM PENH TO MIRACLE ANGKOR COMPLEX
Tour code : CAMP3
Duration : 5 Days 4 Nights
Phnom Penh is the vibrant bustling capital of Cambodia. Situated at the confluence of three rivers, the mighty Mekong, the Bassac and the great Tonle Sap, what was once considered the 'Gem' of Indochina. The capital city still maintains considerable charm with plenty to see. It exudes a sort of provincial charm and tranquillity with French colonial mansions and tree-lined boulevards amidst monumental Angkorian architecture. Phnom Penh is a veritable oasis compared to the modernity of other Asian capitals. A mixture of Asian exotica, the famous Cambodian hospitality awaits the visitors to the capital of the Kingdom of Cambodia.
Angkor Complex - Deep in the forests of Cambodia's Siem Reap province, the elegant spires of an ancient stone city soar skyward above the sprawling complex of Angkor Archaeological Park.
The Khmer Empire's various capitals thrived here from the 9th to 15th centuries, while their rulers presided over an empire that stretched from Myanmar (Burma) to Vietnam. Including forested areas and newly discovered "suburbs" Angkor covers more than 400 square miles (1,000 square kilometers)—an area considerably larger than New York City's five boroughs.
Though just one of hundreds of surviving temples and structures, the massive Angkor Wat is the most famed of all Cambodia's temples—it appears on the nation's flag—and it is revered for good reason. The 12th century "temple-mountain" was built as a spiritual home for the Hindu god Vishnu. The temple is an architectural triumph laden with artistic treasures like the bas-relief galleries that line many walls and tell enduring tales of Cambodian history and legend.
DAY 01 PHNOM PENH – ARRIVAL
DAY 02 PHNOM PENH - SIEM REAP by Public Bus (B)
DAY 03 SIEM REAP – ANGKOR WAT TOURS (B)
DAY 04 SIEM REAP – ANGKOR WAT TOURS (B/-/D)
DAY 05 SIEM REAP – CHANTIER ECOLES – DEPARTURE (B)
EXOTIC PHNOM PENH TO MIRACLE ANGKOR COMPLEX
Tour code : CAMP3
Duration : 5 Days 4 Nights
DAY 01 PHNOM PENH – ARRIVAL
Upon arrival at Phnom Penh airport or boat ferry, meets and transfers to hotel for check in
Lunch not included
Visit the Royal Palace, built by King Norodom in 1866 on the site of the old town, and the Silver Pagoda. Located within the grounds of the Royal Palace, the Silver Pagoda is so named because of its floor, which is made up of 5000 silver tiles. The treasures found inside include a solid gold Buddha encrusted and weighing 90kilograms and a small 17th century emerald and baccarat crystal Buddha. Visit the National Museum, also called Musee des Beaux-Arts. A French archaeologist and painter, Georges Groslier, designed it in Khmer style in 1917. The museum contains a collection of Khmer art - notably sculptures - from throughout the ages.
Dinner not included and night at hotel
DAY 02 PHNOM PENH - SIEM REAP by Public Bus (B)
Breakfast at hotel
Transfer to Phnom Penh bus station for your departure to Siem Reap. This bus trip will take you along the Cambodian country side on a good and bad conditioned road. The trip will take you around 7 hours drive.
Upon arrival at Siem Reap airport, meets and transfers to hotel for check in
Rest of the evening at leisure and night at hotel
DAY 03 SIEM REAP – ANGKOR WAT TOURS (B)
Breakfast at hotel
In the morning, visit to the most beautiful temples of Banteay Srey, located 30 kms from Siem Reap, known as Citadel of Women, Banteay Samre Temple and the Khmer Villages of Phum Pradak.
Lunch not included
Visit to the unique interior brick sculptures of Prasat Kravan, Srah Srang ("The Royal Baths" was once used for ritual bathing), Banteay Kdei (surrounded by 4 concentric walls), Ta Prohm, one of the area's most beautiful temples. Ta Prohm has been relatively untouched since it was discovered and retains much of its mystery. Neak Pean, a fountain built in the middle of a pool (representing the paradisiacal Himalayan mountain-lake) and Preah Khan temple, Built by the King Jayavarman VII. Preah Khan is, like Ta Prohm, a place of towered enclosures and shoulder hugging corridors. Unlike Ta Prohm, however, the temple of Preah Khan is in a reasonable state of preservation and ongoing restoration efforts should maintain and even improve this situation. Dinner not included and night at hotel
DAY 04 SIEM REAP – ANGKOR WAT TOURS (B/-/D)
Breakfast at hotel. Visit the antique capital of Angkor Thom (12 century): the South Gate with its huge statues depicting the churning of the ocean of milk, the Bayon Temple, unique for its 54 towers decorated with over
200 smiling faces of Avolokitesvara, the Phimeanakas, the Royal Enclosure, the Elephants Terrace, and the Terrace of the Leper King. Lunch not included. This afternoon, it is time to visit the most famous of all the temples on the plain of Angkor: Angkor Wat. The temple complex covers 81 hectares and is comparable in size to the Imperial Palace in Beijing. Its distinctive five towers are emblazoned on the Cambodian flag and the 12th century masterpiece is considered by art historians to be the prime example of classical Khmer art and architecture. Sunset from the top of Phnom Ba Kheng Hill or from Pre Rup Temple. Dinner and enjoy Khmer Traditional Dance Show at local restaurant and accommodation at hotel
DAY 05 SIEM REAP – CHANTIER ECOLES – DEPARTURE (B)
Breakfast at hotel. This morning, we will visit to local markets, and Chantier Ecoles of Siem Reap where you will see the children learning the arts of carvings and other life-careered activities. Lunch not included. Transfer to Siem Reap airport for flight to next destination.
PRICE LIST (US DOLLARS/ PERSON) - AVAILABLE FROM APRIL 01ST - SEPTEMBER 30TH 2015
| | | | | | |
| --- | --- | --- | --- | --- | --- |
| Hotel with promotion | 02 pax | 03-04 p | 05-06 p | 07-09 pax | SGL |
| Raffles Le Royal – Raffles Grand | USD 795 | USD 756 | USD 700 | USD 690 | USD 500 |
| Sofitel Phnom Penh – Sofitel AK | USD 667 | USD 628 | USD 571 | USD 561 | USD 371 |
| Sokha Hotel - Le Meridien Angkor | USD 569 | USD 530 | USD 474 | USD 463 | 282 |
| Sokha Hotel - Sokha Angkor | USD 517 | USD 478 | USD 422 | USD 411 | USD 231 |
| Villa Langka - Navutu Dreams | USD 475 | USD 434 | USD 378 | USD 368 | USD 187 |
| Frangipani Palace-Prince D'Angkor | USD 450 | USD 406 | USD 342 | USD 330 | USD 130 |
| Harmony Hotel - Tara Angkor Hotel | USD 363 | USD 324 | USD 269 | USD 259 | USD 96 |
| Juliana Hotel - Empress Angkor | USD 417 | USD 365 | USD 301 | USD 290 | USD 102 |
| Town View 3 – Somadevi | USD 401 | USD 356 | USD 293 | USD 282 | USD 94 |
| Asia Tune - Angkor Holiday Hotel | USD 385 | USD 340 | USD 277 | USD 265 | USD 78 |
| Cardamom - Prum Bayon Hotel | USD 375 | USD 331 | USD 267 | USD 255 | USD 68 |
Tour price included
- Tours and transfers as per the program
- 4 nights accommodation in Phnom Penh & Siem Reap
- Meals : ABF + 1 Dinner show
- All entrance fees, private A/C car with English speaking guides
- One way bus ticket Phnom Penh – Siem Reap
- Cold mineral water during the trips
Tour price excluded
- Visa fee to Cambodia
- All other meals than mentioned
- International air tickets
- Personal expenses
VIETNAMTOURISM VITOURS JSC
83 Nguyen Thi Minh Khai Street, Hai Chau 1 Ward, Hai Chau District, Danang, Vietnam
Licence: 0427/2005/TCDL/GPLHQT
Tel : 0511 3 822 990 - 0511 3 822 999
----------------------------------------------------------------------
Ms. Nguyen Thanh Truc
Inbound Sales Exe. & Tour Operator
Email: thanhtruc@vitours.com.vn
Mobile : (084)949 659 634
Skype: fengnguyen - Ext : 203