VIETNAM TO LAOS DISCOVERY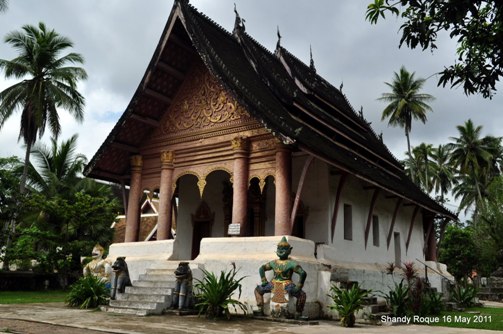 VIETNAM TO LAOS DISCOVERY
Tour code : LAVN
Duration : 13 Days 12 Nights
Vietnam - diverse landscapes, historic cities
Vietnam covers an area of over 330,000 square kilometres stretching south from the Chinese border along the east coast of the Indochina Peninsula. The country comprises a complex geography with soaring mountains, fertile delta plains, ancient forests filled with exotic fauna, winding rivers and long sandy tropical beaches. Many years have passed since the end of the American war in Vietnam and yet this is often the first image that people still have of this small South East Asian country. But in reality Vietnam is a country of outstanding natural beauty, with many small peaceful villages. The people of Vietnam are gentle, smiling and welcoming to visitors with the richness of their origins evident in their daily life. Spirituality in Vietnam is a kaleidoscope of beliefs from Confucianism to Christianity, with a mixture of Buddhism, Taoism, Animism and Tam Giao (triple religion) thrown in for good measure. Some of the best beaches and most tranquil islands in South East Asia can be found along the coastline of Vietnam and because of the proximity of the whole country to the sea, delicious seafood is always on the menu. With its historic cities, beautiful scenery and friendly people, Vietnam will surely hold something of interest for you.
Laos – old world charm, stunning scenery
With a landscape dominated by mountains, rainforest and the mighty Mekong River, Laos is one of the hidden treasures of Indochina!With the smallest population of all Indochinese countries, Laos provides the traveller with a chance to truly experience Asia as it once was. Largely undeveloped, devoutly Buddhist and blessed geographically with natural beauty, this country will leave a lasting impression on all who visit.
VIETNAM TO LAOS DISCOVERY
Tour code : LAVN
Duration : 13 Days 12 Nights
Day 1 : Arrival In Ha Noi ( L/D)
Arrive at Noi Bai Airport. Pick up and transfer to a hotel in the city. Afternoon sightseeing tour features both cultural and historical highlights, comprising Lake of Restored Sword, Ngoc Son Temple, the Temple of Literature, the Ethnology Museum (closed on Monday) and a downtown pedicab ride (1 hour) round the old quarters with a stop at a newly-restored traditional long house. The sightseeing day ends with a water puppet show, a theatrical genre reflecting the agricultural civilization of thousands of years ago. Overnight in Hanoi
Day 2 : Ha Noi – Vientiane (B/ L/ D)
Upon arrival, (depending on your arrival time) your half day city tour enables us to see the major temples of Vientiane including the oldest, Wat Sisaket, with its thousands of miniature Buddha statues, and the former royal temple of Wat Prakeo, which housed the famous Emerald Buddha Image. We also visit the national icon of Laos, That Luang Stupa, stopping along the way to take some pictures of the imposing Patuxay Monument, which is Vientiane's own Arc de Triumph. Overnight in Vientiane
Day 3 : Vientiane – Vang Vieng (B)
After an early breakfast we depart the capital for our journey northbound. Our drive will take approximately 4 hours passing through spectacular countryside before climbing into the mountains. There will be photo opportunities along the way and a stop at a colorful local market where various hill tribes come to trade goods and buy provisions.
We will arrive in the midst of the stunningly beautiful scenery of Vang Vieng in time for lunch at the Organic Farm where you can eat traditional Lao food and sample some roasted goat cheese and mulberry wine.
After lunch we will visit the famous Than Jang Cave, once used by local people as a hideout from Chinese invaders. The rest of the afternoon is free to explore Vang Vieng by foot or bicycle, take a boat ride up river or just relax by the pool at your hotel. Overnight in Vang Vieng.
Day 4 : Vang Vieng – Luang Prabang (Baci Ceremony) (B)
This morning we drive further into the mountains passing spectacular scenery and numerous hill tribe villages. We will lunch at an altitude of approximately 1,300 meters above sea level surrounded by the endless mountain peaks of this remote region.
After lunch we continue on along Route 13 stopping for photo opportunities and arriving in Luang Prabang early evening. After check in at your hotel you can freshen up for our evening at the Traditional Baci & Cultural Show (optional quotation). Out of respect for the nature of this traditional performance we request that you wear formal dress and we will provide you with a traditional Lao shoulder scarf. Overnight in Luang Prabang.
Day 5 : Luang Prabang – Full day city tour – Cooking Class (B/ L)
This morning after breakfast we head off on bicycles to begin our city tour with a visit to the Royal Palace Museum, which hosts a range of interesting artifacts from the Royal period in Luang Prabang. Cycling on, we are seeing the city's oldest temples, the magnificent Wat Xiengthong with its roof sweeping low to the ground, representing classical Lao architecture, the impressive stupa of Wat Visoun and the shrine of Wat Aham.
You will be cooking your traditional Lao lunch atthe Tamnak Lao Cooking School. Among the traditional dishes you may learn to cook are Lap, consisting of minced meat and fresh herbs and spices, a fish and eggplant soup and a stir-fried chicken and pork dish. You will also learn how to make the famous Jeowbong, a traditional sauce eaten as an accompaniment to sticky rice and BBQ meat.
After relaxing at your hotel to let you lunch settle we will pay a late afternoon visit the Arts and Ethnology Centre to learn about Laos'many ethnic cultures. You can enjoy a coffee at the centre's café if you chose before our climb to the top of Mount Phousi to explore the sacred gilded stupa and to enjoy the panoramic view of the city and the sun setting over the Mekong River. Descenting the mountain your will find yourself in the midst of the famous Luang Prabang Night Market, where you can find a unique selection of handmade textiles and handicrafts locally made by both ethnic Lao and hill tribe people surrounding Luang Prabang. Overnight in Luang Prabang.
Day 6 : Luang Prabang – Kuang Sii Waterfall and Pak Ou Caves (B, L)
This morning you have the option and opportunity to rise early and participate in the daily morning ritual of 'Alms Giving', you will experience saffron-clad monks collecting offerings or 'Alms' from faithful local residents. This tradition is unique to Laos, being the only Buddhist nation still preserving the daily procession.
After breakfast back at the hotel we begin our journey to Kuang Sii Waterfall stopping along the way to visit the morning Phousi Market, this where all locals of Luang Prabang come to do their daily shopping. You will see a variety of local foodstuffs and products including dried buffalo skin, local tea and saltpeter among the chickens, fish, vegetables and fruit, everything needed for daily life in Laos.
On arrival at the Kuang Sii Falls you will have the opportunity to cool off with a refreshing swim in the topaz pools below the falls, walk along the forest trails and visit the Bear Sanctuary. You will also enjoy a picnic lunch below the falls.
Upon return to Luang Prabang we board our private boat for a pleasant and scenic cruise up on the Mekong River to the mysterious Pak Ou Caves. These caves are an ancient pilgrimage site and contain thousands of gold lacquered Buddha images left there over hundreds of years.
Returning to Luang Prabang we disembark our boat and have the option of taking a short drive to Ban Phanom, a village famous for its hand weaving or returning to the hotel for free time to relax. Overnight in Luang Prabang.
Day 7 : Luang Prabang – Living Land Farm - petangue game – Spa treatment (B/ L)
This morning we head out to Living Land Farm, a working community farm aprroximately 5kms outside the town. There you will learn all about the rice growing process and have an opportunity to participate in seasonal farm activities such as identifying viable rice seeds, ploughing with a buffalo, hand planting, weeding and harvesting rice and threshing rice seed.
You may be picking vegatables form the organic garden or catching fish to cook for your all natural, organic lunch where there will be a variety of local rice products for you to sample.
We will return to Luang Prabang late afternoon and have the option to go to a local petangue game and enjoy a few Beer Lao, experience a spa treatment or massage or just relax at the hotel. Overnight in Luang Prabang.
Optional quotation: petangue game and spa treatment or massage.
Day 8 : Luang Prabang – Departure HA Noi (B)
Breakfast, you are free until transfer to airport.
Day 9 : Hanoi - Mai Chau - Xo Village(B/L/D)
08:30: leave Hanoi for Mai Chau. After 4-hr beautiful bus ride we reach Pom Coong, a village of the Thai ethnic minority in Mai Chau valley. Lunch in Pom Coong Village. In the afternoon we take light walk on village road to Xo, a village of the Thai ethnic minority. Dinner and overnight in a local house.
Day 10 : Xo Village - Buoc Village - Van Village(B/L/D)
After breakfast at the home stay we say goodbye to the host and walk to Buoc Village. On the way we would see villagers working on rice paddies and children going to school. Lunch on the way. In the afternoon, we will reach the beautiful village of Van. We will spend the second night with a local family.
Day 11 : Van Village - Buoc Village - Van Mai Village - Hanoi(B/L/D)
After breakfast at the home stay, we walk on village roads which run between mountains and rice paddies. We reach our lunch stop, Van Mai Village, around 11:30. Lunch in a local house before taking a bus ride back to Hanoi. We would arrive in Hanoi around 17:30. Trip completes in Hanoi. Over Night In HaNoi
Day 12 : Free day in Ha Noi (B)
At evening- The sightseeing day ends with a water puppet show, a theatrical genre reflecting the agricultural civilization of thousands of years ago. Overnight in Hanoi
Day 13 : Depart from Ha Noi (B) Transfer to airport.
PRIVATE PACKAGE TOURS-US$ DOLLARS

Number of pax (Nett p.p. in half-twin)

Hotel category

2

3-5

6-9

10-14

15-19

20 up

SGL Supp.

3-star

1649

1546

1394

1326

1299

1281

120
Tour price included
- Accommodation on a Triple Room shared basis
- Private, Air-conditioned Transport
- Boat trips as stated in the itinerary
- Water puppet show in Hanoi
- Russia Speaking Guide
- Admission fees to sites stated in the itinerary
- Meals: As indicated in above itinerary = B( Breakfast ,L: Lunch , D: Dinner)
- Gov't taxs and service charges
- Drinking water
Tour price excluded
- Visas and Immigration fees on arrival
- Domestic air ticket
- Int'l air tickets to/from Laos
- Travel and/or Medical Insurance
- Lunch or dinner unless stated in the itinerary
- Single suppl. room accommodation (quoted separately)
- Child or adult in triple share accommodation
- Peak Season or Special Events Surcharges
- Tip, drinks and other personal expenses
VIETNAMTOURISM VITOURS JSC
83 Nguyen Thi Minh Khai, Da Nang, Vietnam
License: 0427/2005/TCDL/GPLHQT
Tel : 0511 3 822 990 - Fax : 051103 822 999
----------------------------------------------------------------------
Ms. Nguyen Thanh Truc
Inbound Sales Exe. & Tour Operator
Email: thanhtruc@vitours.com.vn
Mobile : (084)949 659 634
Skype: fengnguyen - Ext : 203