NORTHERN VIETNAM ENCOUNTER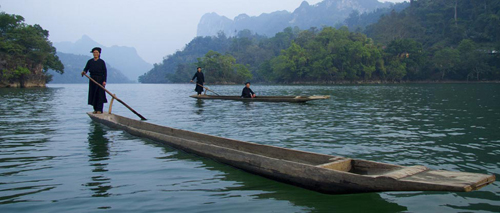 NORTHERN VIETNAM ENCOUNTER
Tour code: NOVIE
Duration: 10 Days 9 Nights
Remote Ha Giang province is regarded by locals and travellers alike as Shangri-La of Vietnamese destinations. Rolling, mountainous landscapes are dotted with limestone karst formations and populated by well-preserved tribal cultures, giving the effect of a place frozen in time.
Day 1-2 - Hanoi - overnight train (B/ L/ D)
Day 3-4 - Sapa (B/ L/ D)
Day 5 - Ha Giang (B/ L/ D)
Day 6-7 - Dong Van (B/ L/ D)
Day 8-9 - Ba Be Lake (B/ L/ D)
Day 10 - Hanoi (B)
NORTHERN VIETNAM ENCOUNTER
Tour code: NOVIE
Duration: 10 Days 9 Nights
Day 1-2 - Hanoi - overnight train (B/ L/ D)
After arrival, private car and guide transfer you to hotel. Hanoi is one of Asia's most enchanting cities. The northern capital is a quiet contradiction to its southern counterpart. Its relaxed ambience is a joy, and exploration by foot or bicycle is recommended. The shopping is fun and the many lakes and parks provide enjoyable escapes from the city.
On Day 2 you will take a guided half-day tour of Hanoi that captures the beauty and the history of the laid-back, tree-lined capital, visiting the major sights including the Temple of Literature, One Pillar Pagoda, and paying a homage to Vietnam's most famous revolutionary, Ho Chi Minh. You will pass by the Hoan Kiem Lake and visit the historic Old Quarter.The tour will also include lunch at the KOTO café, an amazing project aimed at providing vocational training and experience in the hospitality industry for underprivileged young people.
You will board an overnight train to Sapa in the evening.The trains are usually made up of four berth compartments, and sheets and blankets are provided, Some travellers prefer to bring their own sheets, but this completely up to you. There is a chance that you will be sharing your berth with people of different sexes and on occasion with people outside of your travel group.There is a simple dining cart on the train, but it can be wise to stock up on bread, fruit and other delicacies prior to departure.
Day 3-4 - Sapa (B/ L/ D)
You will arrive in Lao Cai in the morning and transfer by road to Sapa.Start your adventure with a walk around the foothills of Sapa. You will cross an array of beautiful rice terraces, before strolling across lush tea plantations. Along the way, you will have the chance to meet some of the local minority people.You will also embark on a walking tour of Sapa town while you are here, and also visit the town's market where you can indulge in some local goods – for example, dyed fabrics, hemp plants and handmade textiles.
From the market you will head off on a short trek (approximately 2.5 hours) to visit a hilltribe village called Cat Cat.Cat Cat is home to the H'mong people, who emigrated from China 300 years ago. It is also a beautiful place physically, located in a valley and surrounded by rice terraces.The H'mong people are easily identifiable thanks to their dark clothing, died with the local indigo and hemp plants, and their headwear – the women with their hair curled up into a turban-like hat, and the men in skull caps.Your second day in Sapa will be more relaxed, offering you the chance to explore this beautiful place for yourself.
Day 5 - Ha Giang (B/ L/ D)
From Sapa you will embark on a long bus journey (approximately 7 hours) to Ha Giang province. This is a beautiful highland region of lush forests and terraced rice paddies, with the dramatic mountains of Heaven's Gate soaring in the background. Ha Giang province also shares a border with southern China, and is known as Vietnam's final frontier..
After relaxing and getting to know your surrounds, you will visit the local markets and shop fronts - relics of a bygone era.
You will also visit the local museum and explore Cuom Village, where you will witness the colourful traditional dress of the local people.
Day 6-7 - Dong Van (B/ L/ D)
You will leave for the first of many scenic mountain drives throughout Ha Giang province today. You will stop to browse (and possibly buy!) at Minh Tao Market, before wandering through Nam Luong village.
A visit to Mrs Mai's Responsible Tourism project will be a highlight of the day. Here you get to learn stories about human trafficking. Most of women (workers) here were the victim or witness of that crime and here is the place where they found an opportunity a life free from exploitation.
You will also pass through Lung Tam textile village and the Vuong Family Palace in Sa Phin commune before continuing on your way to Dong Van where you will spend the night.
You will awake today and visit the local market before setting off on a trekking loop that starts and finishes in Dong Van. The trek (approximately 4 hours) is surprisingly moderate and suitable for passengers with an average fitness level. It will wind you through the spectacular local landscape, where you can expect to catch glorious views and capture some beautiful pictures.
Day 8-9 - Ba Be Lake (B/ L/ D)
You will travel on to Ba Be Lake today, where you will board a houseboat so you can truly explore this beautiful natural wonder. The drive to Ba Be is approximately 8 hours, but the views are breathtaking, and the destination is well worth the trip.
The boat will glide you around the largest natural lake in Vietnam, surrounded by limestone bluffs and mountains- you will disembark for some light walks, visit waterfalls and observe the natural flora and fauna from the deck. This is a wonderful way to unwind and experience the beauty of this hidden gem first hand.
You will return to land and be taken to a local home where you will stay for the evening.
Day 10 - Hanoi (B)
You will depart Ba Be today and head back to Hanoi where your trip will come to an end on arrival at approximately 1 pm. If you are flying out of Hanoi today, please do not book a flight to depart before 4 pm.
INCLUDED
- All transfers and excursion per tour programs
- Good English speaking guide
- Sightseeing fees & boat rides as mentioned in itinerary
- Meals as specified in program
- Water puppet show in Hanoi
- Hotels as listed with breakfast daily
EXCLUDED
- International airfares
- Personal expenese, drinks, ... and the others not mentioned above.
VIETNAMTOURISM VITOURS JSC
83 Nguyen Thi Minh Khai Street, Hai Chau 1 Ward, Hai Chau District, Danang, Vietnam
Licence: 0427/2005/TCDL/GPLHQT
Tel : 0511 3 822 990 - 0511 3 822 999
Ms. Nguyen Thanh Truc
Inbound Sale Exe. & Tour Operator
Email: thanhtruc@vitours.com.vn
Mobile : (084)949 659 634
Skype: fengnguyen - Ext : 203