GOURMET CLASS WITH MS. VY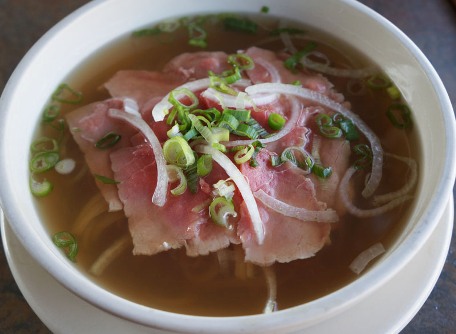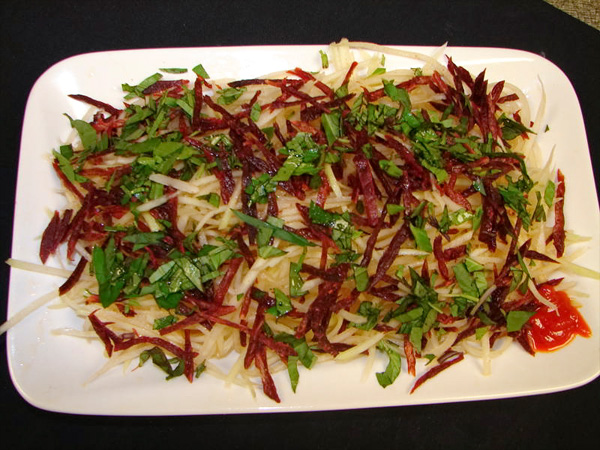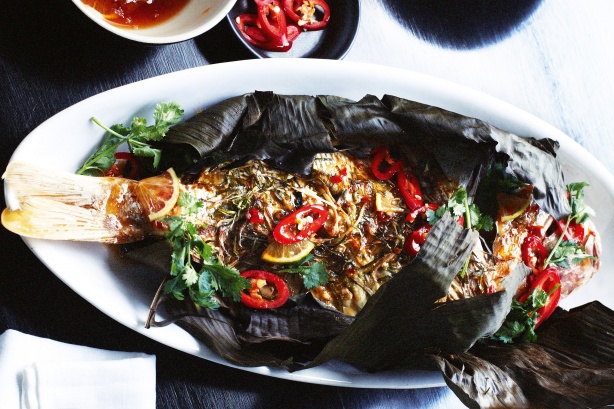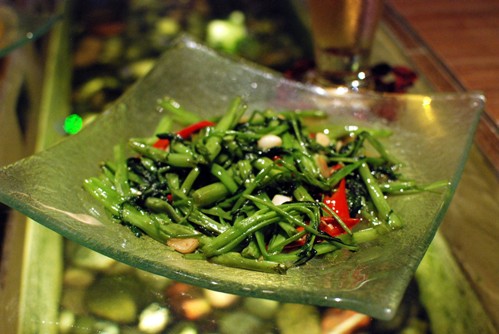 GOURMET CLASS WITH MS VY
Duration : 8.30AM – 2.30PM
Place : The Market restaurant & Cooking school
This is a rich & comprehensive gourmet experience. Beginning with a one hour market tour to learn about Vietnamese ingredients and how to choose the freshest. This is followed by an intensive talk on the art of Vietnamese gastronomy, vegetables, herbs & spices and how to prepare and use them. The practical session comprises cutting techniques and cooking. Students gain hands-on experience of Rice Paper Rolls, Soup with Cabbage Leaf and Shrimp Parcels, Chicken with Lime Leaves to be grilled, Mango Salad and Crispy Hoi An Pancakes. The recipes are provided for participants to take home.
GOURMET CLASS WITH MS VY
Duration : 8.30AM – 2.30PM
Place: The Market restaurant & Cooking school
- We start the tour at
Morning Glory Restaurant (106 Nguyen Thai Hoc, Hoi An, tel: 0510 2241 555).
- We then visit Hoi An's colourful and bustling market in small groups with an english speaking tour guide where participants learn about the uses of different fresh noodles, how to recognise and buy fresh fish, fresh and dried spices, herbs and their uses in our recipes and medicinal purposes. Learn about rice and grains, also see and taste many exotic fruits.
- On our return to The Market Restaurant we tour the many different Street Food counters, seeing live cooking demonstrations, learing how to make many different recipes with food tastings along the way. See bread for our banh mi or baguettes being made in front of you and then taste the baked bread fresh from the oven. Rice and water being ground to make rice water to make noodles, rice flour crepes, dumplings and rice paper dried on bamboo and grilled to eat with Hoi An chilli sauce. See our famous dish of Cao Lau, the noodles being made by hand and steamed over an open fire. We offer a choice of traditional Vietnamese teas served with home made Hoi An cup cakes made freshly in front of you. Taste sweet treats and candy that we eat at Tet our Vietnamese New Year celebrations. And much more .....
- The cooking lesson runs about 4 hours - Ms Vy will first conduct a theory session covering many subjects including: choosing ingredients, cutting techniques, Vietnamese food history, philosophy, nutrition & herbal remedies. Ms Vy demonstrates each dish before you prepare the same dishes yourselves. After the lesson we sit down and eat what we have cooked with unlimited drinks & sweet treats. You will receive a mini Taste Vietnam recipe book and a Vietnamese cooking utensil to take home.
Recipes: (Vegetarians are provided with replacement ingredients).
1. Sweet & Sour Fish Soup with noodles
2. Papaya Salad with Beef
4. Stir-Fried Morning Glory
PRICE : 63 USD / person (not include Collection - it can be charged upon your request)
Group 1 - 4 persons : +48 USD (pick up at hotel in Danang transfer to Hoian - transfer back to Danang)
Group 5 - 9 person : +50 USD (roundtrip transfer from hotel in Danang to Hoian)
Group 10 - 17 persons : +82 USD (roundtrip transfer from hotel in Danang to Hoian)
Group 18 persons up : +104 USD

(roundtrip transfer from hotel in Danang to Hoian)
What's included:
• Welcome drink, bottled water at Morning Glory Restaurant
• Local English speaking tour guide and Ms Vy as your chef
• Live cooking demonstrations, tastings and refreshing Vietnamese drink at The Market Restaurant
• Lunch includes the above meal plus steamed rice & unlimited sweet treats
• Refreshing Vietnamese drinks, water, beer, unlimited with meal
• Recipe booklet and a Vietnamese cooking utensil to take home
Note:
• Full payment required at time of booking
• Tour is conducted in English
VIETNAMTOURISM VITOURS JSC
83 Nguyen Thi Minh Khai Street, Hai Chau 1 Ward, Hai Chau District, Danang, Vietnam
Licence: 0427/2005/TCDL/GPLHQT
Tel : 0511 3 822 990 - 0511 3 822 999
----------------------------------------------------------------------
Ms. Nguyen Thanh Truc
Inbound Sales Exe. & Tour Operator
Email: thanhtruc@vitours.com.vn
Mobile : (084)949 659 634
Skype: fengnguyen - Ext : 203