Northern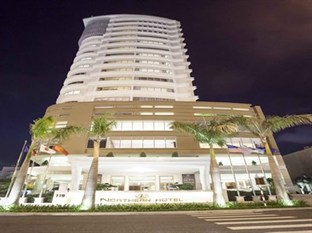 Northern Hotel Da Nang, located in Danang Bay, Da Nang, is a popular choice for travelers. Set 2.00 Km from the excitement of the city, this 4-star hotel commands an excellent location and provides access to the city's biggest attractions. Also within easy reach are Thuan Phuoc Bridge, Hospital C, Cao Dai Temple.

Northern Hotel Da Nang offers impeccable service and all the essential amenities to invigorate travelers. Guests of the hotel can enjoy on-site features like smoking area, meeting facilities, airport transfer, safety deposit boxes, Wi-Fi in public areas.
Guests can choose from 108 rooms, all of which exude an atmosphere of total peace and harmony. The hotel offers an excellent variety of recreational facilities, including massage, steamroom, sauna, fitness center, hot tub. Northern Hotel Da Nang is an ideal place of stay for travelers seeking charm, comfort and convenience in Da Nang.
Distance from City Center: 2.00 Km
Earliest Check-In: 02:00 PM
Time to Airport (Minutes): 10
You may also like
Hotel category:

Rate from:Updating

Address: 07 Ly Thuong Kiet, Danang, Vietnam

Hotel category:

Rate from:Updating

Address: 205 Tran Phu , Hai Chau District , Da Nang City

Hotel category:

Rate from:Updating

Address: 24 Tran Phu , Nha Trang