VITOURS has practically inspected some service suppliers for brandnew product series in 2015
27/02/2021 - 08:14
With the aim of forwarding the sustainable corporation, creating the most competitive products in both price and quality, VITOURS have done the inspection the suppliers of accommodations (hotels, resorts) as well as entertaining services (Golf course, cruise) in Danang and Quang Nam.
Involved in this field trip, VITOURS Staff have visited new-born hotels as : Naman Retreat 5*, Premier Village Resort 5*, Holidays Beach Hotel 4* (very beautiful beachfront hotel in Danang). We a
lso visited and experienced the specific program "SNAG GOLF Montgomiere Links" at one of the most famous Golf Course in South East Asia – Montgomiere Links Golf Course, enjoyed a romantic and wonderful trip on Han River Dragon Cruise to admire the Danang city at night. Continue with the significant success of Au-Win Travel Season of product "AMAZING HOLIDAY", VITOURS offer you the brand new series of product for welcome Lunar New Year 2015 and preparing for summer holiday of 2015.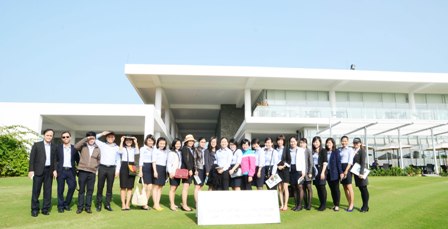 BRANDNEW SERIES PRODUCTS OF 2015
Free & Easy "Enjoy the blue ocean together with beloved family" (4 days 3 nights)
Experience the etate "Golfing and Relaxing at 5-star standard Beach resort" (3 days 2 nights)
Reveal the latent beauty of Central Vietnam – Daily Private tour for International Tourists only
Central Vietnam Heritage Road & Discover the Central Vietnam (5 Days 4 Nights)
Paradise of Central Vietnam – Fascinating sandy beach (4 Days 3 nights)
Responsible Ecological Social Travel – Smart experiencing (3 Days 2 Nights)
Ly Son Island – Quang Ngai Province "The legendary land of Garlic" (3 Days 2 Nights)
Paying tribute trip to General Vo Nguyen Giap & Paradise cave tour (2 Days 1 Night)
Caravan tour : Laos – Northeast Thailand (5 Days 4 Nights)
These new-born products are designed becoming with the mission to bring the best services that maximizing the customers's satisfaction.
Some photos of the inspection.