Pu Ta Leng – challenging mountain for adventurous visitors during New Year festival
09/03/2021 - 11:47
As one of the mountains of Hoang Lien Son, Pu Ta Leng is located northwest of Mount Fansipan. If Fansipan is known as "The roof of Indochina", then Pu Ta Leng is definitely the second roof that backpackers and young players who desire challenges, must try to conquer once in a lifetime. Located between these two peaks is O Quy Ho Pass (also known as Hoang Lien pass) and the highway 4D (this is the way to go from Lao Cai and Lai Chau and vice versa).
Pu Ta Leng Peak (Phu Ta Leng) was called as Pú Tả Lèng in the language of the Dao, an ethnic group living in Phong Tho district, Lai Chau province, in which "Pú" means "mountain". Conquering Pu Ta Leng is not an easy task since the progress of climbing and going down usually takes from 3 to 4 days. In case if you want to combine camping with relaxing then it will take about 5 or 6 days. You can start at Pho village, Ho Thau Commune, Tam Duong district, Lai Chau province to begin your journey of conquering the Pu Ta Leng.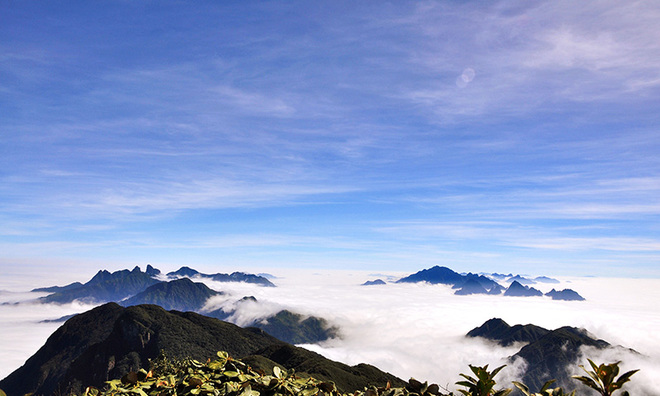 From the height of 1500m and above, colorful water-rail blooming spread Pu Ta Leng create romantic and majestic scenes of mountains and forests. Most are pink and purple water-rail blooming over the road, full of petals falling everywhere makes the scene as the way to paradise. From there, panoramically you might see the Bach Moc Luong Tu peak and the Phu Xi Lung peak, two another peaks of Hoang Lien Son Mountain.
Besides the majestic Pu Ta Leng peak, it's also a big opportunity for you to explore the peaks of Bach Moc Luong Tu and Phu Xi Lung… These are the fascinate peaks, which challenge climbers with many sharp, jagged and unsteady hilly terrain and obstacles.
Pu Ta Leng in particular and the peaks within Hoang Lien Son mountain range in general is always a big dream for young compulsive moving lovers who want to mark unforgettable moments of youth through conquests by foot.